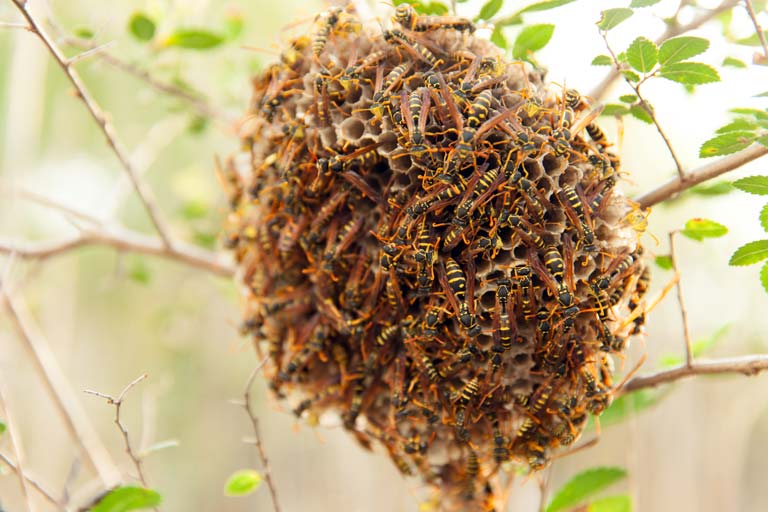 Bees are the great pollinators of the world, but they can quickly become a nuisance when left to invade your property. Beehives behind walls, in eaves, in attics and even hanging from nearby trees all pose a threat to property owners. To prevent accidents and agitation, call Affordable Pest Control at the first sign of a bee problem and we'll quickly solve it. We have more than 20 years of experience dealing with bees in Midland, Greenwood, Gardendale, Odessa, Tarzan, and Garden City, TX.
Bee and Hive Removal
Bees can be docile insects, but if they perceive a threat to their hive or queen, they quickly become aggressive. This is why bee removal is so important if you have kids or pets, or if the hive is located anywhere near your home or other trafficked area. An innocent pass could be viewed as a threat, causing bees to attack. Even if you're not allergic, bee stings can hurt or even be deadly.
We'll come out to your site to inspect the nature of the hive and the size of the colony. We'll decide on the proper course of action and, whenever possible, use humane methods to relocate the hive. If there's no way to accomplish this, we'll handle bee removal swiftly, so you're not left with a lingering threat on your property.
Once the bees and hive are gone, we can help you further prevent an infestation of bees, wasps and other stinging insects on your property. This includes identifying common nesting areas and preventing any nest formations that could become problematic.
Humane Bee Relocation (When Possible)
Bees are essential pollinators, yet our bees are disappearing—often driven out of urban areas by pollution. It's important to treat bees with care whenever possible and always try to relocate the nest before pursuing extermination options. It's why our first approach is always humane bee relocation in Midland County, TX.
If we can safely remove a nest and its queen, we can relocate bees to a safe area far away from your property. Through fumigation techniques, we can knock out the bees and transport them alongside the hive to a local pasture or prairie, where they can continue to pollinate local flora.
Bee removal and relocation is most successful with outdoor nests and those that aren't entrenched in the eaves of your roof or anywhere else. While it is possible to relocate bees without the hive, this is often the best method of ensuring their survival after the relocation.
Say Goodbye to the Bees
If we can safely remove the hive from your property and get to the queen, Affordable Pest Control will do what we can to relocate your bees to a safe place in a humane way. If that's not possible, you can still count on us for bee removal services in Midland County, TX. Contact us today at 432-520-6985 for more information or to schedule a site visit so we can see how to approach your bee, animal control, or bed bug problem.